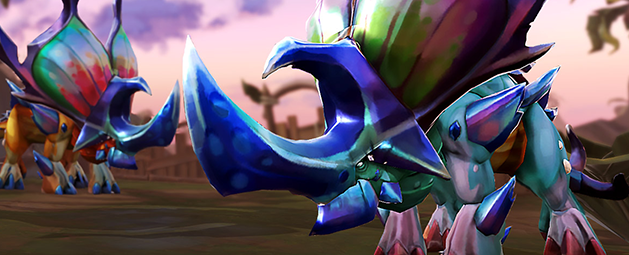 May the fourth be with you! In these troubled times you might feel as though you're in a galaxy far away, but rest assured that all of us here at Jagex are with you in spirit… and now, in-game! Read on for more information on our events program, including livestreams, Double XP LIVE, and the Pet Parade! Plus, the Ninjas have been hard at work behind the scenes on a whole parsec's worth of changes.
Let's take a look!
Ninja Strike!
Oh my Guthix! What on earth has happened here? There are ninja stars everywhere! It's almost as though this latest Ninja Strike has focused on hordes of small requests, instead of going after one big problem – in a move we like to call the Ninja Scattershot.
Inspired to challenge our Ninjas? Visit their Dojo here to make your request. A number of the changes below came from player submissions to the Dojo!
The Ranch Out of Time
Never let it be said that RuneScape players don't have a heart! We received loads of requests to give Great-Granny Potterington her very own retirement home on The Ranch Out of Time – and who are the Ninjas to say no to such a sweet gesture?
They've swapped their nunchuks for hammers and nails and built a fully functional farmhouse on the Ranch island, complete with space for a storm barn for easier access to even the biggest dino-buddies.
They've also shuffled the Bank a little closer, so that dear old Great-Granny can have an easier time going to pick up her pension. Oh, and you'll no doubt find it comes in handy when you've an Inventory full of beak snot to squirrel away.
Visiting your dear old dino-herding Great-Granny is easier than ever before, because The Ranch Out of Time teleport will now drop you off at the farmhouse, instead of all the way down on the beach. In addition, you'll be able to add that teleport to the portals in the Max Guild. Well, come on, pumpkin! Go pay Great-Granny Potterington a visit!
The Raptor's Chest
Yes, there is nobody the Ninja Team cannot contact – not even the mysterious Raptor! This week they tracked him down and, after an epic battle of wits, convinced him to upgrade the loot in his chest.
Firstly, Raptor's Basic Outfit is now a guaranteed drop from the chest, so upgrading them to the Advanced Outfit will be a cinch! In addition, the Raptor's Advanced Outfit will no longer degrade over time, so you can stay looking snazzy throughout your Slayer adventures.
Secondly, The Raptor seems to have used this opportunity to fill the chest with a wider range of loot, including the all-new orikalkum salvage, which we're sure will be great fun to disassemble, or even alchemize!
Finally, the keen-eyed adventurers among you will notice that The Raptor's Chest has been moved from its old spot in Burthorpe. You can now find it in War's Retreat.
Stone Spirit Drops
This week the Ninja Team have taken steps towards giving more appropriately high-level stone spirit drops from various places in the game. This includes your favourite bosses and Slayer monsters, and even things like the Rare Drop Table and the Prifddinas Crystal Chest! .
New Item Packs
The Ninjas have utilised their secret compression jutsu to squeeze yak hides and raw meats into item packs for easier purchasing in stores across Gielinor. Just don't try to squeeze them all back in once you've opened it… that could get messy!
Grace of the Elves
Another popular request was to make feeding Signs of the Porter to Grace of the Elves a bit less of a hassle – so the Ninja team have gone and done that! Now you can right-click (or long press) the necklace from your equipment screen and choose between 'Charge porter' or 'Charge all porters'.
There's also a setting to toggle warnings about charging all your porters at once on and off.
To find out all the details about this latest Ninja Strike (and there are a lot!) check out this week's Patch Note post.
Double XP LIVE
We hope you're prepared for the biggest event of the summer, because it's coming this week! That's right, Double XP LIVE will kick off this Friday May 8th and last all the way until May 18th.
Throughout the event you'll get 48 hours of Double XP gains, to be used at your leisure – with the exception of our newest skill, Archaeology.
You can find more information here, as well as the full rules here.
The Drop
The Drop has closed once again, saving several of you from any further fall damage. We'll update you on the final total later this week!
If you'd like to know more about how that money will help people all over the world, tune in our Charity Partner AMAs coming to Reddit later this month:
May 14th: CPSL Mind
May 28th: Prince's Trust
Yak Track
The Zodi-Yak Track has drifted back off toward the stars, vanishing from Gielinor's skies entirely. Don't forget to keep hold of any task skips you have left over for future Yak Track events!
Oddments Refresh
You're not the only ones who've been digging deep into the past: this week the Oddments Store has been restocked with some fabulous treasures from past events, including the Beach Sand Outfit and Gnorm the clockwork gnome pet.
Data Livestream
Last Thursday our J-Mods revealed a wealth of RuneScape statistics in a Data Livestream. Missed the math? You can rewatch it here.
Ancient Legionary Update
Last month's Twitch Prime reward, the Ancient Legionary armour set, came out looking a bit chunkier than anticipated. It has now been updated with better proportions for female player models. Happy fashionscaping!
Patch Notes
You got a taste of this week's Patch Notes with the Ninja update, but there's plenty more to check out, including the following:
Bad luck mitigation for artefacts has been increased. It will now take the players last 5 received artefacts into account when awarding a new one.
Fixed an easy clue scroll hint referencing the Combat Academy so it no longer references content that is out of date.
Chronotes can now be added to, and used from the currency pouch.
To see them all, have a look at the dedicated Patch Notes post.
Livestreams
Our stellar program of livestreams continues this week with not one, but two fun-filled evenings of RuneScapey goodness. Let's take a look:
Tuesday May 5th 17:00 BST: RuneScape Spring Update
This week, we'll have Mods Warden, MIC, Osborne and Hypnos (the RuneScape Leadership team) on the virtual sofas to talk about life after Archaeology, and to update you all on what the teams are working on.
Thursday, May 7th 17:00 BST: RuneScape Monthly Pub Quiz
Think you know your Sheep Shearer from your Sheep Herder? Are you smarter than the Wise Old Man? Prove it! Come and join us for an all-new pub quiz – live from the Blue Moon Inn (sort of). There will be prizes to be won!
Friday May 8th 15:00 BST: Evil Lucario
Our Featured Streamer this week is Evil Lucario! You never know what you'll see with this all-star variety streamer, but one thing we can guarantee is that you'll have a great time. You can find their channel here.
J-Mod Event: Pet Parade!
Join Mod Kari and special guest Mod Pebble for the most adorable event ever! Show off your furry, scaly, and downright weird companions in this Crufts-style Pet Parade. Awards include 'Best Behaved', 'Waggiest Tail' and more!
To join in, bring your favourite pet or familiar to Falador Park on World 23 at 18:00 BST on May 7th. Don't forget the doogle leaves!
Pink Skirts Events
Each week the Pink Skirts have been holding a Dig 'n' Chill event – why not come along and join them tonight? Between 23:00 and 00:00 at Kharid-et on World 85, they'll be chatting, chilling, and excavating ancient ruins. Bank deposit boxes will be provided.
You can see the rest of the Pink Skirts' event schedule here.
---
– The RuneScape Team