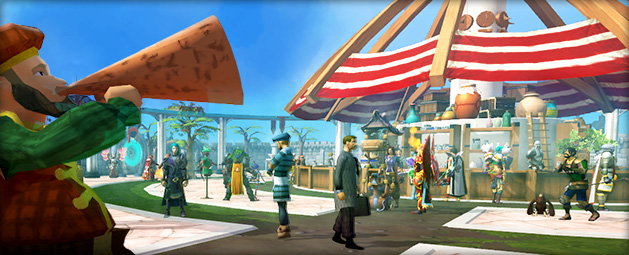 This week we've got the update you've all been banking on – it's the Grand Exchange Ninja Strike! Plus, there's an array of livestreams for you to enjoy and a funky filter for all you Instagram divas. Let's take a look!
Ninja Strike: The Grand Exchange
Ah, the Grand Exchange. A bastion of commerce and trade in the heart of Gielinor. Who doesn't feel their spirits raise when they spot that iconic red-and-white awning as they return from a long day of bossing?
Hold on now… who's that crawling under the wall from Edgeville? Why – it's the Ninja Team! And they're changing things! Yes, it seems that from now on, using the Grand Exchange will be easier than ever before.
For one thing, they've installed a brand new client-side prediction feature, which means that all that fiddly communication between the server and your client at home has been reduced. You know what that means: faster transactions for everyone!
Now let's get to the nitty gritty. Have you ever accidentally ordered something you shouldn't have? Taken home 1,000 buckets when the quest only required one? After today, you'll be able to edit any of your offers on the Grand Exchange instantly, without taking them down. Just click the 'Edit' button to try it out for yourself.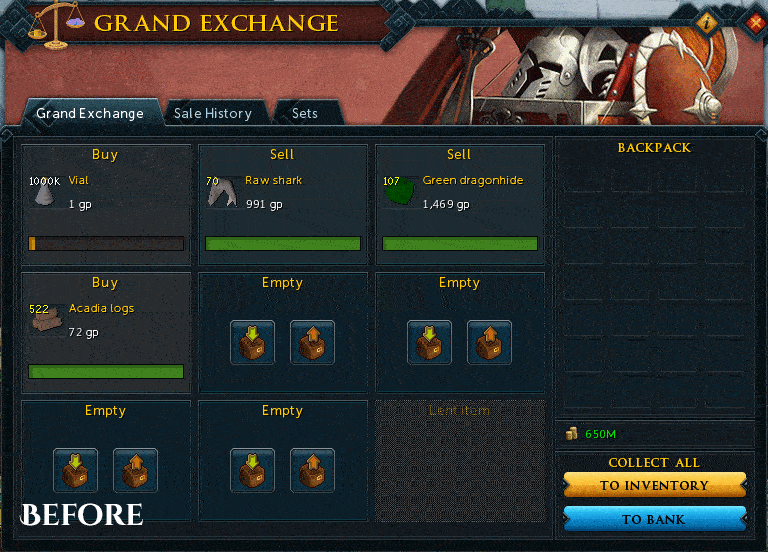 It's also easier to adjust the prices of the items you're looking to buy and sell, with the addition of +/- 20% buttons, which will appear next to the +/- 5% ones.
When searching, up to 12 items will now appear in the results, as opposed to six as it was previously.
Lastly, a 'Favourite Items' tab has been added to the interface. Free-to-play players can list up to six items they buy frequently for easier access. Members can list up to 18 items. To select your favourites, either click the star next to the item after searching for it in the usual way, or search from within the Favourites Tab.
Patch Notes
Of course, we haven't spent all our time skulking suspiciously around Gielinor's biggest trading post – check out the changes our other teams have made all around the game:
Further improvements have been made to improve the display of the Bank on mobile devices.
A device status panel has been added to the UI near the Compass/Minimap. This panel displays device status information such as battery charge levels and connection status.
The messaging for damage dealt from each poison in Big Game Hunter now appears regardless of whether or not you skipped the cutscene.
The amount of damage dealt by each poison is now explained in the message, and each poison has a different text colour.
To see this week's full list of Patch Notes, check the dedicated post here.
Twitch Prime
You have just one day left to claim 14 days of membership for free with Twitch Prime! From Tuesday June 16th the Twitch Prime gift will be a Premium Currency Pack, including 400 RuneCoins, 20 Treasure Hunter Keys and 80 Hearts of Ice!
To claim your reward, all you have to do is link your RuneScape and Twitch Prime accounts.
More information can be found here.
Live Streams
Tuesday June 16th | 16.00 Game Time | Skill'n'Chill with Mod Poerkie
Join our resident stroopwafel enthusiast, Mod Poerkie, on a whirlwind trip across Gielinor. He'll be skillin', he'll be chillin', and we'll all be having loads of fun. Meet up at the Lumbridge Market on World 84 to join in!
Thursday June 18th | 16.00 Game Time | Stutorials with Mod Stu and Mod Poerkie
Who knew that watching two J-Mods play through every defunct tutorial could be so much fun? Well, we knew, obviously. That's why we keep scheduling it. This week the dynamic duo will be returning to Unstable Foundations to share a few more behind-the-scenes surprises. Don't miss out!
Saturday June 20th | 12:00 Game Time | Featured Streamer: Spidermash
This week Spidermash will be doing whatever a spider can, which in this case includes training his time locked account, playing through everything RuneScape has to offer in order of release date! Speaking of dates, a little birdy has told us that this Saturday will be Spidermash's birthday – so if you're tuning in, be sure to say congratulations!
RS Bosses Instagram Filter
Sure, bossing on RuneScape has been more fun than ever since the release of War's Retreat – but what if you could watch yourself beat the bosses in real life?
Well we're not quite at the stage where we can ship you all a dragon longsword and hope for the best just yet, but our all-new Instagram filter is pretty close!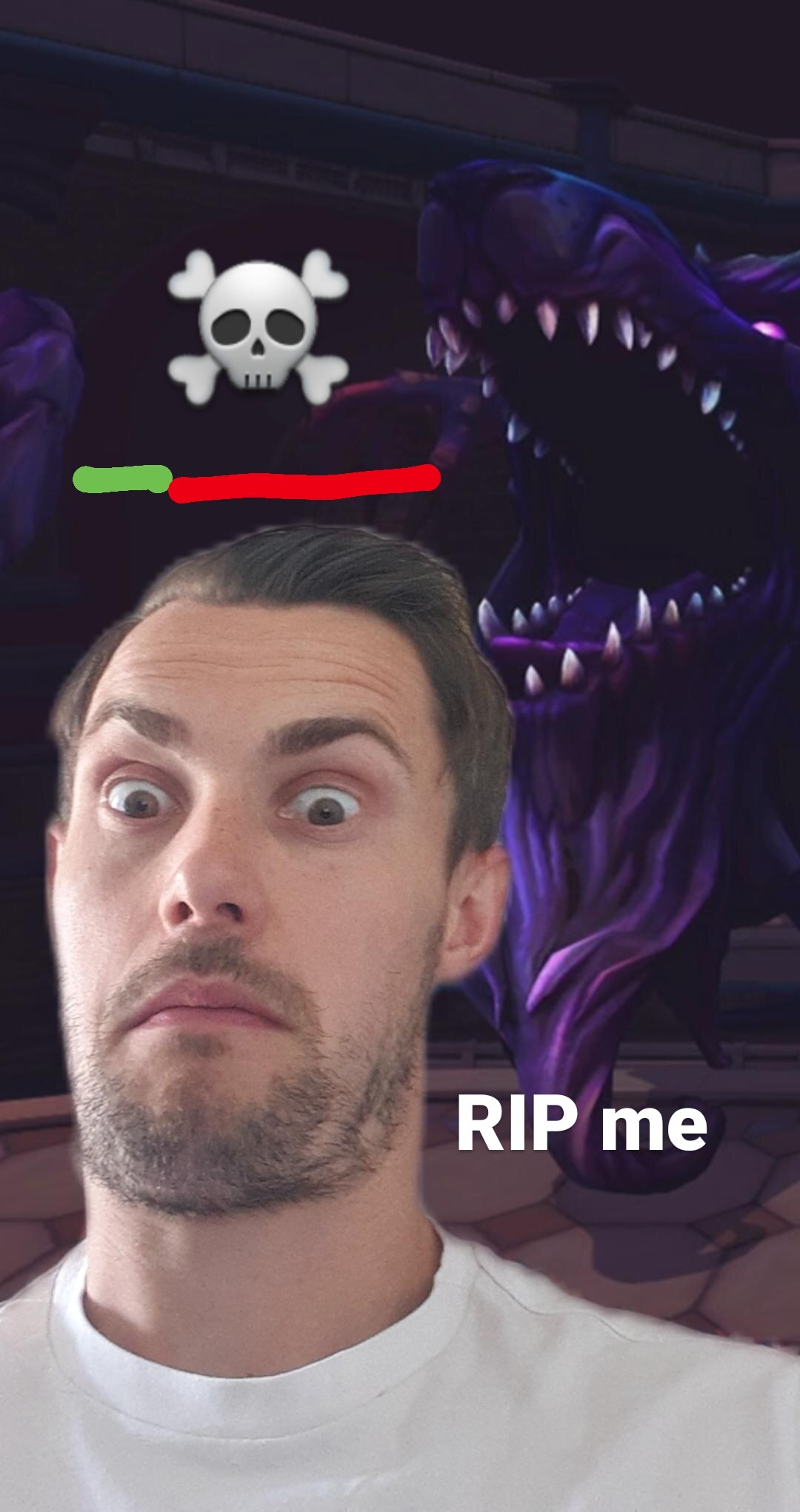 You can access the filter with this link or by searching 'RS Bosses' on the Instagram Camera menu.
Just to liven things up, let's make it a competition! We want to see you taking selfies and kicking monster ass. Set up the scene and share it with us on Instagram or Twitter with #RuneScapePvM, or email it to us at community@jagex.com. There's prizes up for grabs!
Forum Spotlight
This week's Forum Spotlight is from a familiar face around these parts – Mod Kari wants to know what you think about this week's update! Rumour has it that she has connections to the Ninja Team, so if there's something else you'd like to see them tackle, then now's the time to talk about it!
Join the conversation here!
Pink Skirts
The Pink Skirts are a veteran crew of players dedicated to making RuneScape more fun for everyone! This week's featured event is Hardmode Kree'arra, hosted by Nobleartisan, Philly PD and Sharna.
Join them at the God Wars Dungeon on World 68 at 23:00 Game Time, and don't forget your Climbing Boots!
For help, simply add Ahelp to your Friends Chat. For more details, click here.
---
– The RuneScape Team