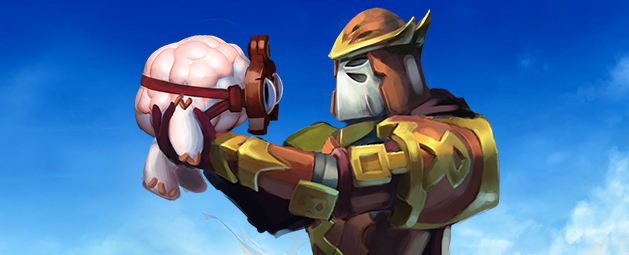 We're getting our brains in gear for Mental Health Awareness Week! Read on to find out all about how you can participate and get your hands on some cerebral prizes, too. Plus, there's some major gameplay enhancements in the form of Walk Markers and Buff Bar Improvements.
Mental Health Awareness Week
During these unusual times, our mental health is currently more important than ever. That's why our partner charities have been working day and night to provide much-needed help to people all over the world.
Mental Health Awareness Week is your chance to find out more about the great work they do, support their cause, and earn some thematically appropriate prizes.
From May 18th to May 24th, you'll find representatives from CPSL Mind, Rise Above the Disorder and The Prince's Trust in Lumbridge Crater. Each day they'll have a new question to ask you – answer correctly, and you'll win an XP lamp!
In addition, while you're skilling around the world you'll earn charity tokens which can be exchanged for prizes, including the Bastion of Fortitude armour set and the adorable Eugene the Brain pet. Go on, give him a squish!
You'll earn extra tokens while levelling Archaeology and completing or contributing to collections.
And don't forget – if you're missing any of the prizes from previous years (such as the awesome Defender of the Mind Wings) they'll be available to purchase with RuneCoins from Solomon's General Store.
100% of the proceeds raised during this event will go to our three charity partners – so you won't just be having fun, you'll be contributing to three incredible causes. You can read more about the work they do here.
Psst – if you'd like to know what else Jagex is doing for charity lately, have a peek at the Play Apart Together Campaign.
Patch Notes
This week's Patch Notes are very much worth paying attention to as they bring about some significant usability enhancements.
Walk Markers Enabled on PC
On RuneScape Mobile, there are walk markers to indicate where your character will move next. Lots of you were asking whether this could be made available for PC. And the answer is yes, it can! This option will be enabled by default and can be toggled off and on in the Gameplay Settings menu. It will not be toggleable on mobile versions of the game, where it is permanently on.
Buff Bar Priority Improvements
We've been listening carefully to your feedback about the new Buff Bar order and for the past six months we've been working with members of the PvM community to build a system that will be better for everybody. This week, those changes will enter the live game.
From now on, the Buff Bar will sort buffs into sections, and display those sections in the order of most to least important. The new order is as follows:
– Boss specific effects
– Defensive abilities
– Offensive abilities
– Status effects
– Boosts
– Overhead prayers
– Utility prayers
– Invention perks
– Item effects
– Skilling bonuses
– Pet effects
– Aura activation
In addition, effects that are about to expire will no longer shuffle higher up the bar. Instead, they'll continually flash until they run out.
We understand that this new system is a big change and will take some getting used to, but we're certain that it will improve combat for everybody.
Combat XP Timing
Currently, combat XP is awarded after a monster's death animation has played. This can be a bit confusing, because you'd expect to get the XP at the moment you finish killing the monster. So from now on, you'll get your XP when the monster's hitpoints reach zero.
And that's all, folks! You can read the full Patch Notes for this week's update here.
Twitch Prime
This month we've teamed up with Twitch Prime to bring you 14 days of membership free when you link your RuneScape and Twitch Prime accounts. To get started, click this link to go to the redemption page.
Be sure to follow all the instructions! You can find a handy-dandy guide right here.
Live Streams
May 19th, 17:00 BST – Art Showcase
Take a look behind the curtain and meet the creative wizards who are responsible for bringing RuneScape to life!
May 21st, 17:00 BST – New Player Experience with Mod Stu
Mod Stu continues his adventure into the past with an in-depth look at RuneScape's most nostalgic tutorial sequences.
May 23rd, 13:00 GAME TIME – Featured Streamer: Liddles
This week we've been promised some in-depth Archaeology gameplay, Archaeology-themed IRL activities, and even cosplay! Mattocks at the ready, everyone!
Pink Skirts
This week the Pink Skirts are hosting a town square Q&A near Varrock West Bank. Volunteer Mods and veteran players will be there to answer your questions, perform some emotes, and just hang out for an our or so. Be there, in the town square!
You can find more details about Pink Skirts events here.
---
– The RuneScape Team