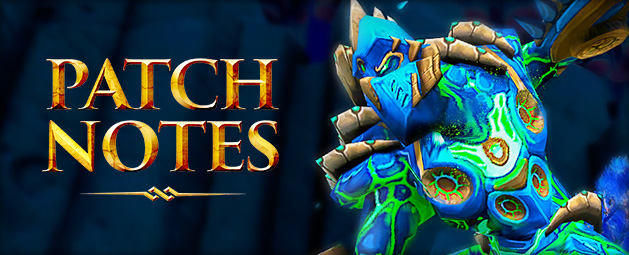 It's Patch Notes time!
Last week we saw a healthy dose of improvements targeting the RuneScape mobile experience. Have you had a chance to explore the new RuneScape iOS Closed Beta? Be sure to keep an eye on our website and social media platforms for more information about opportunities to get involved.
This week our focus has switched back to RuneScape's newest skill, Archaeology. There's lots of great changes, so let's dig in!
Want to share feedback? Why not make a post in the our forum?
Want to challenge our Ninjas? Visit the Dojo!
Run into an issue? Click here to find out how you can let us know!

Archaeology
This week our talented teams have dug up a cache of changes for Archaeology. From fast travel options to upgraded dragon tools, we've uncovered something for everyone!
Changes
Lady Ithell is now able to upgrade augmented dragon tools, carrying across the augment and perks.
The Mattock of Time and Space can now be created using augmented mattocks. Players will be able to carry across the augment and perks from one of the mattocks used in creation.
The missing images in the Archaeology Journal have been added for Armadylean, Zamorakian and Saradominist collections.
Strong winds at Stormguard Citadel have knocked down pillars and dislodged a tree that was obstructing players' views of excavation spots.
The augmented Inquisitor Staff can now be keepsaked.
Velucia and Isaura realised they'd misplaced items from the Zamorakian III collection into Zamorakian IV and vice versa. The mistake has been corrected:

The Virius Trophy and the Chaos Elemental Trophy have been moved to Zamorakian IV.
The 'Possession' metal sculpture, the Trishula and the Tsutsaroth Piercing have been moved to Zamorakian III.

Some quick-travel options have been added to the entrances of the Infernal Source and Everlight dig sites.
Activating all eight Kharid-et shadow anchors will now grant players a fast travel option to the praetorium from the Kharid-et entrance.
A waste-paper basket that Movario accidentally left at the Archaeology Guild has been removed.
The orientation of the Stormguard Citadel skybox has been flipped to better reflect the World Map.
Players that have partially completed Sliske's Endgame will now see Armadyl present in his tower if they meet the following criteria:

The player has yet to receive the Ring of Solomon relic from Armadyl.
The player has the required Archaeology level to receive the Ring of Solomon relic.

The Kal'gerion demon familiar has been shrunk to be less obstructive.
Fixes
Fixed an issue causing white lines to appear throughout the Uncharted Isles.
Fixed an issue that was preventing Honed 6 from activating while Mining.
Fixed an issue causing Material Storage information to display incorrectly on Free-to-play worlds.

Other
Changes
Combat XP is now rewarded when an enemy's HP reaches zero, rather than at the end of their death animation.
Improved the way the Buff Bar prioritises buffs. The new order is as follows:

Boss specific effects
Defensive abilities
Offensives abilities
Status effects
Boosts (like life or prayer overheals)
Overhead prayers
Utility prayers
Invention perks
Item effects
Skilling bonuses
Pet effects
Aura activation

Effects that are due to expire no longer shuffle to the front of the bar, but will continue to flash until they either expire or are refreshed.
A 'walk marker' toggle has been added to Desktop Settings. This will enable the walk marker that appears on RuneScape mobile.
Removed the Easter event hub and the Easter eggs around the world.
The keg of beer and Sextant will no longer stall your movement when used.
Players will no longer be able to remove items with combat stats from their tool-belts while on Entrana.
Ice Drygore Longswords will no longer stretch and attach to 120 capes on a female character while in combat.
Improved server performance by changing how faction invasions work within The Heart of Gielinor.
Combat experience calculations in Elite Dungeons now award a ratio of experience relative to the damage dealt to the defeated NPC.
Fixes
Fixed a presentation issue on mobile which caused buffs with a timer/stacking value to clip.
Fixed an issue that could cause Tutorial boxes to appear cropped off screen when transitioning from the game view to a full screen UI on mobile.
Fixed an issue that could cause NPC chat to open over a full screen UI causing it to appear cropped on mobile.
Fixed an issue which caused the examine text on Raptor's Chest Of Slaying to be cropped on mobile.
Fixed a potential client error that occured when a new player opened the Wardrobe UI for the first time on mobile.
Fixed an issue where that caused disconnects when attacking the black golem during the Spirits of the Elid quest using melee armour/weapons with armour spikes.
Fixed an issue that was causing a cutscene in Cabin Fever to be obstructed if the 'Remove Roofs' setting was turned off.
Fixed an issue in the Legends Quest that was causing Nezikchened to stretch when using magic attacks.
Fixed an issue where the Ring of Wealth message was displaying on rare drops at Nex without the player meeting the Tier 3 and higher luck needed to affect drop chance.
---
Don't forget that this week is Mental Health Awareness Week. We're partnered with three amazing charities who can provide a lot of great information and support on this topic. Have a read through this post to see for yourself!
Please look after yourself and those around you, now and always!
---
The RuneScape Team